most of you guys know what the deals is but,
got offered a fairly well setup rb25 for a desent affordable price. so i had to choose between an insanly quick nissan or a mildly quick stock xr6T.
the nissan won due to its potentual track work if all goes wrong. who knows i may even drift this and street the beams instead???
but anyway i rushed off to find an s13 as i've alway liked a nice clean s13 for it simple look and nice more up to date interior.
so aim of the game is, i want somthing very clean that im happy to look at every day. with the power that i'll never get bored of.
so i ended up with this s13. i wanted either blue or green two tone. nothing else would sufice. i wanted sunroof and aircon while still being relitivly clean and on the cheap side of things. so to tick all these boxes would probley have taken ages to find one and i wanted one now!
now it's not the mintest example but with a bit of effort i think its still saveable. the major things like rattlely interior and leaking door seals were sweet. everything else could be fixed up with abit of effort
(pic of engine going in when it was getting built up)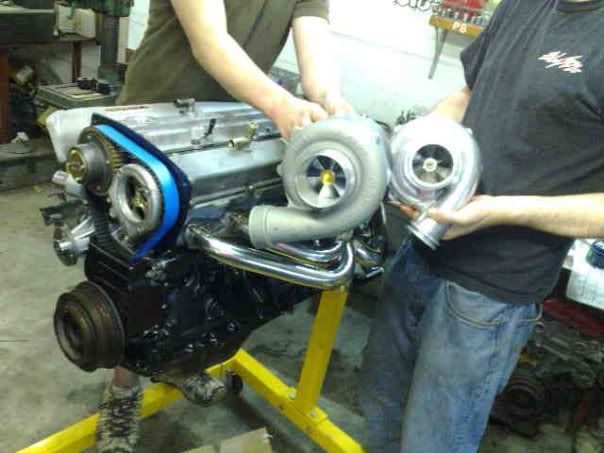 bit of front end damage... sr autos nothing special either.
had the radiator explode on me bringing it home also :lol:
nissans will be nissans though i guess! will have to get used to breaking down alot now!
plans are mild street/daily. won't be much to look at as i want attention away from the rb that will mean instant rapage as soon as the bonnet gets opened.
lets see what happens! will i convert from toyota?